Adata Legend 960 1TB NVMe SSD Review: The Mongoose
Encountering a new level of performance initiates a scramble to validate its authenticity and eventually makes us reconsider the type of hardware we should be comparing. The unusually fast hardware in this case is a 1TB SSD which complicates our analysis by performing like a 2TB unit. The math behind our conundrum is rather simple: A controller that needs eight flash rom chips (NAND ICs) to fully saturate its back end will be less-than-saturated when using four of the same ICs.
Adata Legend 960 1TB (P/N ALEG-960-1TCS)
Form Factor
M.2 2280
Controller
Silicon Motion SM2264F
Capacity
1.0TB
Cache
2x 4Gb DDR4-2400
Flash
Micron 176L TLC (B47R)
Endurance
780 TBW
Interface
PCIe 4.0 x4 (NVMe 1.4)
Warranty
5-years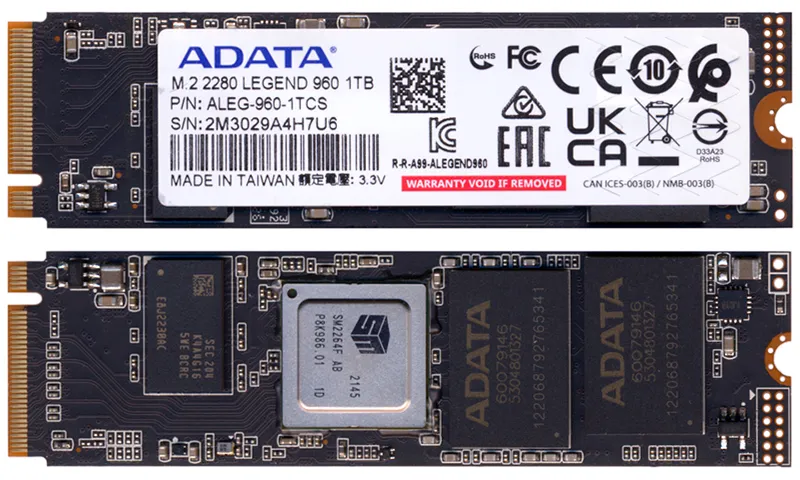 This is an easy way to explain why modern 512GB drives have less than half the bandwidth of their 2TB sibling models, just as it was formerly a good way to explain why 128GB drives had less than half the bandwidth of 512GB parts. The 1TB Legend 960 has two (relabeled) Micron 256GB ICs on each side for a total of four, just as the 2.0TB Cardea PS5 had four on each side for a total of eight.
We initially thought it fair to compare the Legend 960 1TB to the recently-reviewed Viper VPR400 which also has four of the same 176-layer Micron TLC ICs, but the Viper lacks the Legend 960's 1GB of DDR4-2400 cache. That's not so easy to see on the Viper since its RGB-enhanced heat sink is factory mounted, whereas the 0.85mm-thick copper sheet that comes with the Legend 960 is to be installed by the builder via its adhesive backing. As the copper heat spreader is probably thin enough to fit within M.2 2280 standards, this packaging decision might reflect Adata's desire to show the hardware underneath.
Test Hardware
CPU
Intel Core i9-12900K, Fixed at 4.8/4.0GHz, 1.275V
CPU Cooler
Alphacool Eisblock XPX CPU, VPP655 with Eisbecher D5 150mm, NexXxoS UT60 X-Flow
Motherboard
ASRock Z690 Taichi LGA 1700
Graphics
Gigabyte GeForce RTX 2070 Gaming OC 8G: 1410-1725 MHz GPU, GDDR6
Power
be quiet! Dark Power Pro 10 850W: ATX12V v2.3, EPS12V, 80 PLUS Platinum
Memory
Patriot Viper Venom RGB DDR5-6200 C40 2x 16GB (32GB) Kit
Sound
Integrated HD Audio
Network
Integrated Wi-Fi
Graphics Driver
GeForce 496.49
We're hoping to retain our 11-month-old PCIe 4.0 NVMe test platform until PCIe 5.0 NVMe drives arrive at our lab.
Benchmark Results
Since it's the best-equipped (performance wise) 1TB drive in today's test, we're placing the Legend 960 1TB mid-chart, above the other 1TB models and below the 2TB models. We'll make the new drive stand out visually by using full color density in chart results.
Sandra appears to have slapped us for our optimism, but there appears to be a problem with using this older version with the new drive. Since we've already seen the latest version produce incompatible scores and we don't want to retest the other four drives, validation begins with AIDA64.
The 1TB Legend 960 makes a clean sweep of AIDA64's bandwidth test and places between the two 2TB drives in AIDA64 latency. Let's see what it can do with some game data:
Most gaming tasks involve multiple small file transfers, and the Legend 960 sweeps the field in those tasks. It's only when 3D Mark stuck it with moving an entire game folder that the two 2TB models climbed ahead.
The Legend 960 beats all in PCMark as well, and it really doesn't seem to matter which task set we're using or whether we're referring to bandwidth or latency.
ATTO shows the Legend 960 ahead of other 1TB drives, but still behind the 2TB models in most metrics. Sequential Writes are where it does best, with wins at the smaller 4k transfers.
The Legend 960 1TB beats both of its 1TB rivals and the 2TB A440 PS5 in CrystalDiskMark, and even tops the Rocket 4 Plus in roughly half of the tests.
While much stronger than any tested 1TB competitor, the Legend 960's large file transfer deficit against 2TB models shows up again in DiskBench.
Leaning hard on its small file transfer strengths, the 1TB Legend 960 ties the 2TB Rocket 4 Plus in overall performance. Some may even look at its 3% lead in games and call it a gaming drive, but a broader view would be that this 1TB drive likely can't beat the 2TB drives in large file transfers simply because it has only half as many NAND ICs. Those who can afford a 2TB drive and can use more than 1TB of space probably aren't even considering a 1TB drive such as the Legend 960 model we tested…and we only wish we had date from the 2TB version of the Legend 960 for them to compare.
Adata Legend 960 1TB
Pros
Cons

The fastest 1TB SSD to date

The Verdict
With roughly equal performance to our fastest 2TB drive, the 1TB Legend 960 become the best choice for those with lower capacity needs.
It wasn't so long ago that we asked another reviewer why he gave the $130 VPR400 an award when it only performed like a $110 drive, and he said that he thought its RGB-enhanced heat sink was worth the extra $20. The Legend 960 has only its superior performance to offer, yet with a 26% performance advantage over its flashier competitor, we think most of you will understand why we're awarding Adata's Legend 960 as the best 1TB drive.
Please follow and like us: