Cooler Master MasterBox TD500 Mesh ATX Case Review
If you wanted to build the best-cooling case, what would it look like? You'd want a bunch of air to flow through the hottest components and most of that air to also go through the CPU cooler, since any air that bypassed the CPU cooler would be wasted cooling potential. Convenience items such as quick-remove dust filters that could hinder airflow would also be left out. With nothing but airflow in mind, you'd really only need a box with a bunch of cheap fans and a power button. Fortunately, the MasterBox TD500 Mesh is far from that basic.
Priced under $100 and packed with three 1800 RPM intake fans, the TD500 Mesh appears optimized for our top-mounted twin-fan radiator. The excess airflow from the case's third fan will help feed cool air to the graphics card, and some of that air will flow over the chipset heat sink. Meanwhile the somewhat tight squeeze for the fans of our top-mounted radiator will assure that they pull maximum air over the motherboard's voltage regulator.
You wouldn't want anything getting in the way of airflow past the graphics card, so the MasterBox TD500 Mesh uses vented slot covers and even a vented panel next to the slots. While we don't see an eighth expansion slot or even a factory-supplied exhaust fan, it gets the basics right. An inset slot panel and a right side panel with captured thumbscrews and grab handle won't impress you…until you've tested a premium case that lacks these.
So far we've only indicated that the TD500 Mesh was less basic than a box with fans, but our photos also showed its single tempered-glass side panel and ordinary (as opposed to cut-rate) rear. Buyers also get a tiny HDD activity LED, a pair of "USB 3.0" ports that are now called USB 3.2 Gen1 by USB-IF, a power button that lights up when the power is on, headphone and microphone jacks, and a tiny reset button. A mesh cover on the top panel is secured at its periphery by magnetic strips, while the front-panel vent is nothing more than an encapsulated screen that's not really meant to filter the air so much as to provide minimal resistance to airflow.
Unlike the front mesh, the bottom filter is removable. Unlike the top filter, the bottom filter's six tabs make its removal a bit cumbersome. Also seen on the bottom are rubber pads on the case's feet and two screws that help to secure its built-in drive cage.
Slide or peel the top filter and you'll find mounting slots for up to three 120mm or two 140mm fans at pretty much any front-to-rear spacing you'd like. While these mounts are barely high enough above the board for a 25mm fan to clear, they're offset 35mm (for 140mm fans) or 55mm (for 120mm fans) from the motherboard standoffs so that a radiator/fan combo can hang past the top edge of a motherboard without interfering with its components. Since you'll need a few millimeters of that space for the thickness of the board and memory slots, we'd recommend sticking to so-called 240mm or 360mm liquid coolers just to maintain around 50mm memory clearance.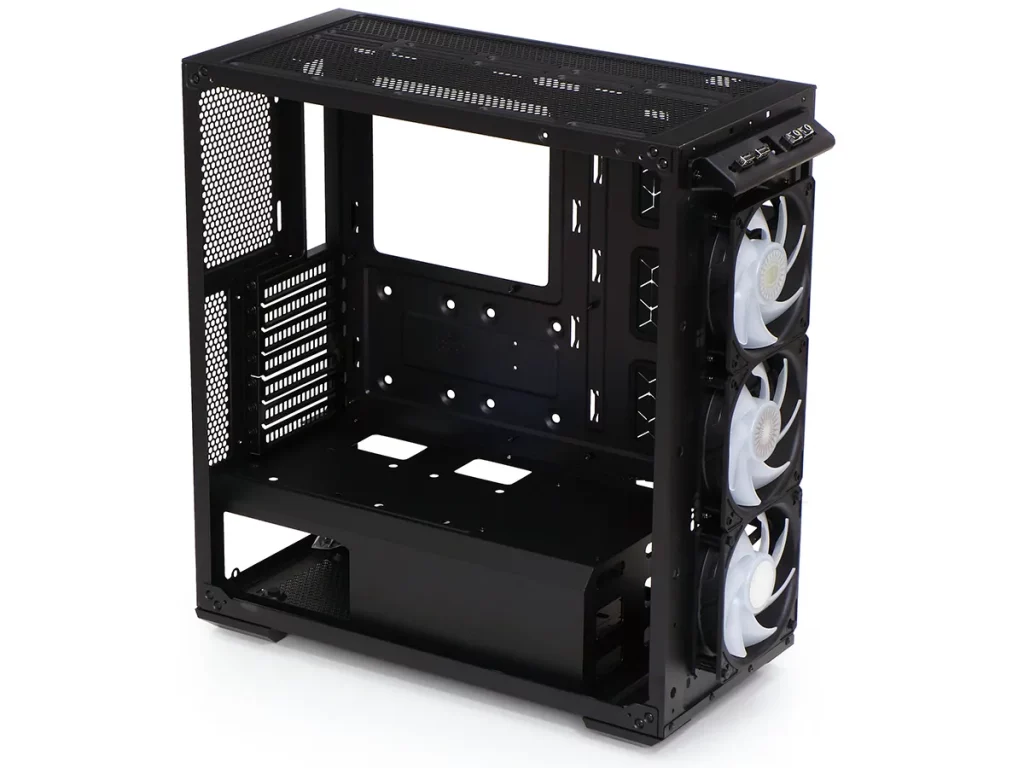 A 3" (~75mm) gap between the power supply tunnel and front mounts seems more than adequate for radiator installation, especially when the fans are mounted on the opposite side of that sheet metal. Conversely, Cooler Master includes enough eight and grommets to support the installation of two 2.5" drives, on a case that's designed to hold four. The above photos show two 2.5" mounts on the back of the motherboard tray and two more on top of the power supply tunnel.
Two more drives fit into a dual-tray drive cage that can support either 3.5" or 2.5" drives. These trays slide open once removed to allow built-in side pins to engage 3.5" drives, but 2.5" drives are stuck using regular screws.
Cooler Master MasterBox TD500 Mesh
Type
Mid-Tower
Motherboard Support
EATX (w/o hw), ATX, Micro ATX, Mini ITX
Max Motherboard Depth
13.8″ (35 cm) measured, rated 10.7″ (27.2 cm)
Dimensions (HxWxD)
18.4 x 8.5 x 19.4″ (46.8 x 21.6 x 49.3 cm)
Air Cooler Clearance
165mm
Card Length
410mm measured, rated 410mm
Power Supply Format
PS/2: 230mm measured w/HDD cage installed, rated 180mm
Weight
15.1 lbs (6.85 kg)
External Bays
X
Internal Bays
(2) 3.5/2.5″, (4) 2.5″
Card Slots
7
Ports/Jacks
(2) USB 3.0, Headphone/Mic
Other
LED Controller
Included Fans
(3) 120mm Front (ARGB)
Front Fan Mounts
(3) 120mm or (2) 140mm
Rear Fan Mounts
(1) 120mm
Top Fan Mounts
(3) 120mm or (2) 140mm
Bottom Fan Mounts
X
Side Fan Mounts
X
Top Rad. Clearance
28mm vertical, 35/55mm horizontal
Front Rad. Clearance
75mm
Front Filter
X
Top Filter
Magnetic perforated sheet
Bottom Filter
Tab-secured perforated sheet
Damping
None
Price
$98
Please follow and like us: