Thermaltake Tower 500 EATX Case Review
A great many means are available to builders who just want to show off, from open chassis where the term case is merely a suggestion to those designed to hold the greatest possible number of radiators, but what if you're the type to stumble across an old-fashioned popcorn cart and think "hey, if only that were black? Maybe the site of a wine cooler got your gears turning? Thermaltake's got you covered.
The Tower 500 follows up on Thermaltake's previous Tower cases, but presents at a far more manageable 24" height that Thermaltake calls "mid-tower". And while it may not resemble a traditional mid-tower, its 15.3" depth (15.7" including a pair of protruding screws) lets it fit on shallower desks…assuming you'd put a case this large atop a desk.
Up top is a removable panel with push latches on the rear, under which is a nylon dust filter with screwed-in plastic frame. It's the only dust filter that requires tools for removal, and won't likely get plugged too badly given that there's a large open hole in the back of the plastic frame that supports it.
Though it may face forward, the front-panel port section is located within the top panel (frame's) leading edge. It includes four Gen1 USB3 ports, a single Gen2 Type-C port, separate headphone and microphone jacks, a power button with two-segment lighted trim ring that indicates power on (in blue) and HDD activity (in red), and a reset button.
Under the case are a slide-out dust filter for the power supply's air inlet, a vented front section, three thumb screws the keep the lower side panel vents in place, and four plastic feet with foam washers on the bottom.
The previously-mentioned hole in the back of the top panel frame is viewable from the back of the Tower 500, directly above its removable rear panel. Secured by two thumbscrews that stick out around 10mm, the panel features a cutout for the power supply mount, a large vent, and a magnetically-attached filter sheet.
Removing the top panel frame reveals the reason behind the giant hole in its back section: That's where peripheral cables come out. Since the Tower 500 points the motherboard's rear edge upward, peripheral connectors are found within a portion of the top of the chassis. The slot panel and I/O shield are recessed 60mm below the surrounding structure, and the frame that holds the top panel spaces it ~50mm above that same structure. In total, over four inches of space exists between rear panel ports and the top panel to ease the bending of cables toward the gap in the back of the case. Meanwhile, the nearby top fan bracket is offset 15mm upward into the top frame's cavity.
The three upper side panels rest on bidirectional slide tabs, so that these can be rotated top-to-bottom and still slide into place. Behind these are a motherboard tray and two removable power supply bay covers. Called "Front PSU covers" by Thermaltake, the power supply bay covers slot into the motherboard tray in back and screw to the chassis frame in front.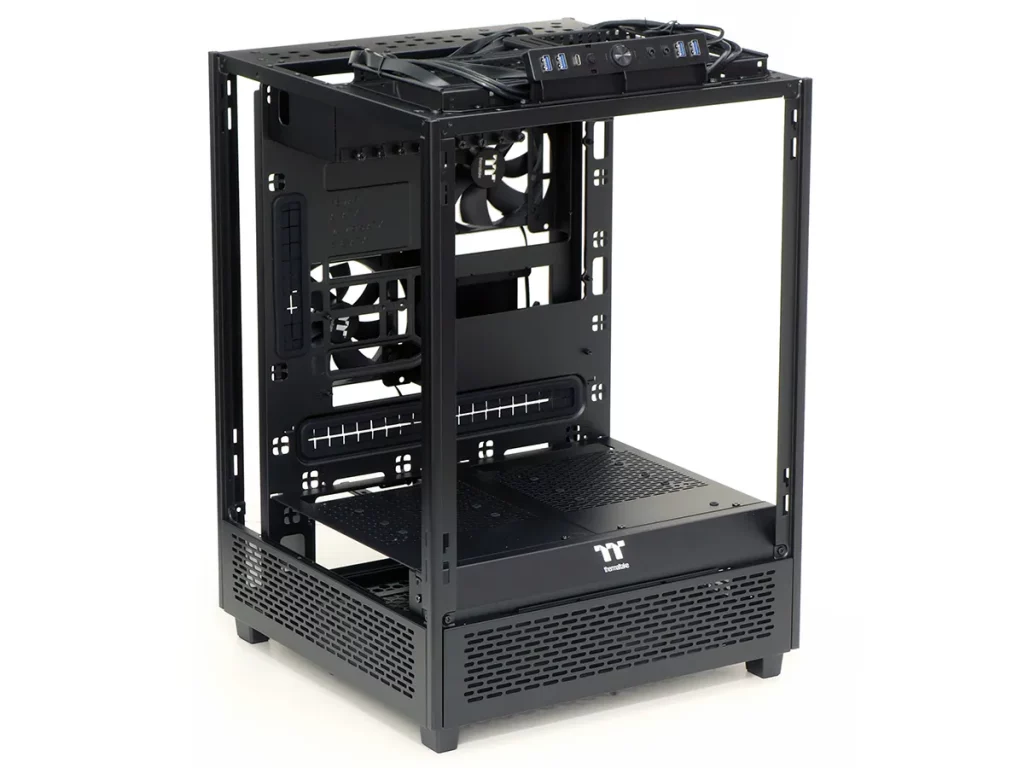 Removing a screw from under its bottom edge allowed us to drop the left side panel and reveal its snap-out dust filter. Thermaltake calls the two horizontal panels next to it "Front PSU covers", and indeed the one we removed did end up covering the top of our power supply. Each "Front PSU cover" is drilled to hold two 3.5" drives, or four 2.5" drives, or one 140mm fan, or one 120mm fan.
Removing the lower right side and turning the case, we see that the lower front panel includes a mount for twin 120mm fans and so-called "240mm" radiators. A magnetic strip mounted dust filter covers a large vented section below the front radiator mount, and the radiator bracket can be flipped around and laid over that filter for bottom-up ventilation. A group of holes behind that filter are drilled and threaded to fit various liquid cooling pump brackets.
A large mounting tray that's attached to the back of the motherboard tray is configured to hold two 120mm fans, two 3.5" drives and two 2.5" dual-drive cages. Removing those cages allows two more 3.5" drives to be mounted in their place. Removing the fans allows two more 3.5" drives to be mounted in their place.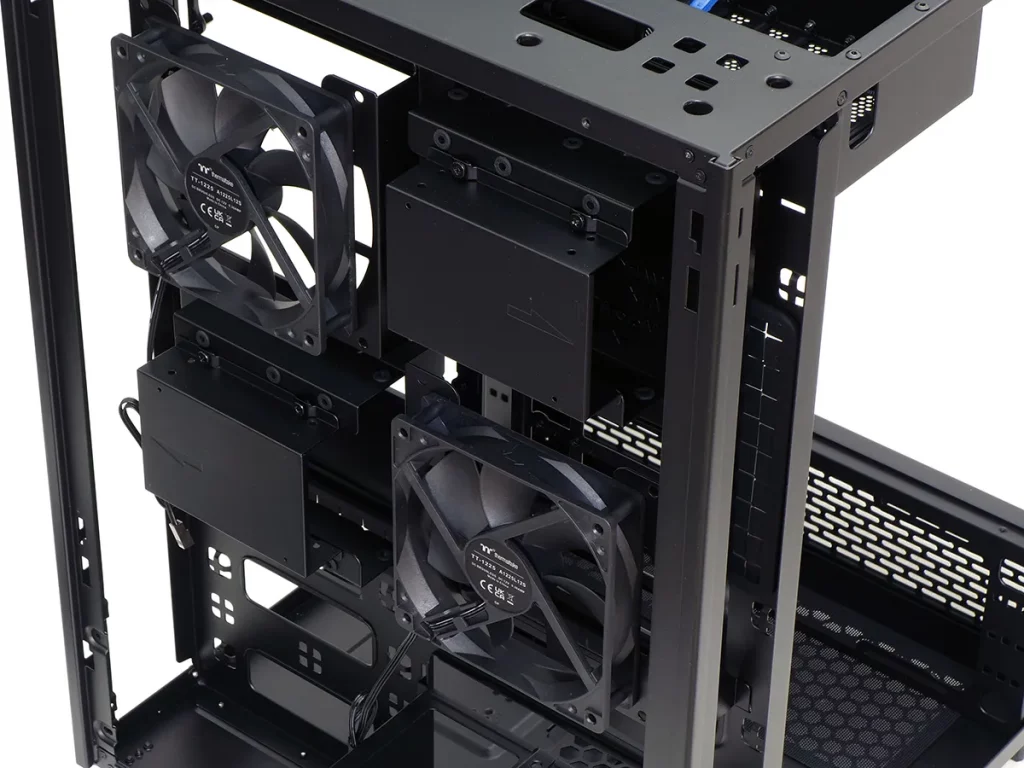 We should probably throw in some caveats here: Though the Tower 500 is designed to hold full EATX motherboards and has a row of standoffs directly above the "Front PSU Cover" plates, removal of the cover plates is required to fit 13"-deep full-spec boards. Removal of at least one of those cover plates is also required to fit any cards longer than 12.8". And if you'd like to put a pump with a built-in reservoir on the other side as suggested by Thermaltake, you'll have to remove the "Front PSU Cover" on the other side. These cover plates make up a sizeable chunk of the case's aesthetic, and each supports up to four 2.5" drives: Filling the tower 500 out to its maximum specs isn't really possible since the use of some features precludes the use of others.
Thermaltake Tower 500
Type
Mid-Tower
Motherboard Support
EATX, XL-ATX, ATX, Micro ATX, Mini ITX
Max Motherboard Depth
325/355 mm (12.8/13.9″) w/removable trim
Dimensions (HxWxD)
61.0 x 38.8 x 39.8 cm (24.0 x 15.3 x 15.7″)
Air Cooler Clearance
285mm
Card Length
325/355 mm (12.8/13.9″) w/removable trim
Power Supply Format
PS/2: 330mm clearance
Weight
14.7 kg (32.3 lbs)
External Bays
X
Internal Bays
4 x 3.5" + 8 x 2.5", or 6x 3.5″ + 4x 2.5″, or 8 x 3.5"
Card Slots
9
Ports/Jacks
(1) USB3 Gen2 Type-C, (4) USB3 Gen1, Head+Mic
Other
X
Included Fans
(2) 120mm Rear
Front Fan Mounts
(2) 120mm
Rear Fan Mounts
(2) 140mm/120mm
Top Fan Mounts
(2) 140mm/120mm
Bottom Fan Mounts
(2) 140mm/120mm (on trim)
Side Fan Mounts
(3) 120mm (second mount optional)
Top Rad. Clearance
82mm vertical, 85mm horizontal
Front Rad. Clearance
Unrestricted
Front Filter
Nylon Mesh (snap-in frame)
Top Filter
Nylon Mesh (screwed frame)
Bottom Filter
Nylon Mesh (slide-in frame)
Damping
None
Price
$180
Please follow and like us: